---
aunity Sanitary napkins and pantiliners
with anions, active oxygen and nanosilver for your intimate hygiene and woman care.
What women really need is an antibacterial, highly absorbent and breathable sanitary napkin!

More than just a super-absorbent sanitary napkin! Nanotechnology in each aunity sanitary napkin is enriched with ozone and negative ions (anions), which help to fight bacteria and odors as well as promoting a ph balance and vaginal health - naturally and safely without chemicals, fragrances or synthetic elements.

Without sufficient protection during menstruation, women may be more vulnerable to a number of gynecological diseases, which affect their quality of life and adversely affect their health, career and family.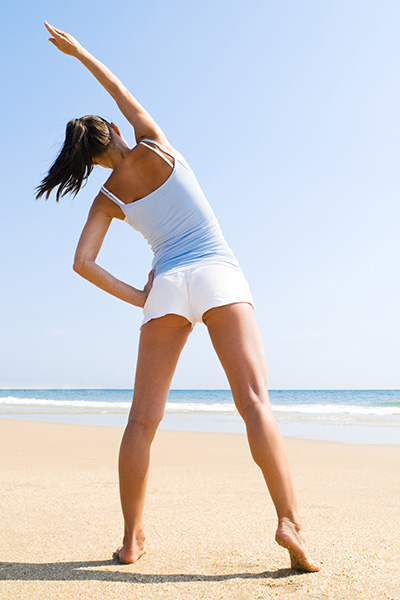 Im Gleichgewicht mit negativen Ionen und Sauerstoff

Negative Ionen (Anionen):
Anionen sind geruchlose, geschmacklose und unsichtbare Moleküle. Auf die Gesundheit von Menschen haben Anionen eine besondere positive Wirkung. Sie sind auch unter dem Begriff "Vitamine aus der Luft" bekannt. Sie stärken das Immunsystem, fördern den gesunden Schlaf und erhöhen die Konzentrationsfähigkeit. Anionen beseitigen Bakterien aus der Luft: Je höher die Konzentration an negativen Ionen, desto reiner ist die Luft.
So werden bei einer Konzentration von über 9.500 Anionen je cm³ das Immunsystem und die entzündungshemmenden und antibakteriellen Funktionen des Körpers unterstützt.

Aktivsauerstoff:
Die einzigartige Aktivsauerstoff-Formel erhöht die Luftdurchlässigkeit und den Sauerstoffaustausch der Binde und das Wachstum von Bakterien wird verhindert. Es ist wissenschaftlich bewiesen, dass Sauerstoff und Anionen im Blut einen direkten Einfluss auf den Stoffwechsel haben. Höhere Mengen an Sauerstoff und Anionen begünstigen die hormonelle Balance, die hormonell gesteuerte Aufnahme von Nährstoffen aus der Nahrung, entschlacken, reinigen das Blut und unterstützen die Zellerneuerung. Durch die patentgeschützte Anionen-Schicht werden in aunity Damenbinden bis zu 5.800 Anionen je cm³ produziert. Diese negativen Ionen unterdrücken die Vermehrung von schädlichen Bakterien auf der Oberfläche der Binde, unterstützen die Immunkräfte und die natürliche, gesunde Intimflora der Frau. Negative Ionen gelangen in die Gebärmutter und verbessern dort die Blutzirkulation.

Nano-Silber:
Nanosilber zeigt in der äußerlichen Anwendung eine antimikrobielle Wirkung und inaktiviert in bereits kleinen Konzentrationen eine Reihe von Bakterien und Pilzen. Silber macht man sich schon sehr lange zu Nutze. So trank man früher aus Silberbechern, um Infektionen zu vermeiden. Auch heute noch essen wir mit Silberbesteck – der beste Beweis dafür, dass Silber lebensmitteltechnisch unbedenklich ist. Unsere Urgroßmütter legten eine Silbermünze in Milch, um diese lange frisch zu halten. Heute wird die Wirkung von Silber wieder entdeckt, nachdem es vor 50 Jahren durch die breite Einführung der Antibiotika seine Bedeutung verlor. Die Anwendung von Nanosilber in aunity Damenbinden und Slipeinlagen bringt große Vorteile durch seine breite Wirksamkeit gegen Krankheitserreger - sogar gegen solche, die gegen eine Vielzahl herkömmlicher Antibiotika bereits resistent sind.
aunity Damenbinde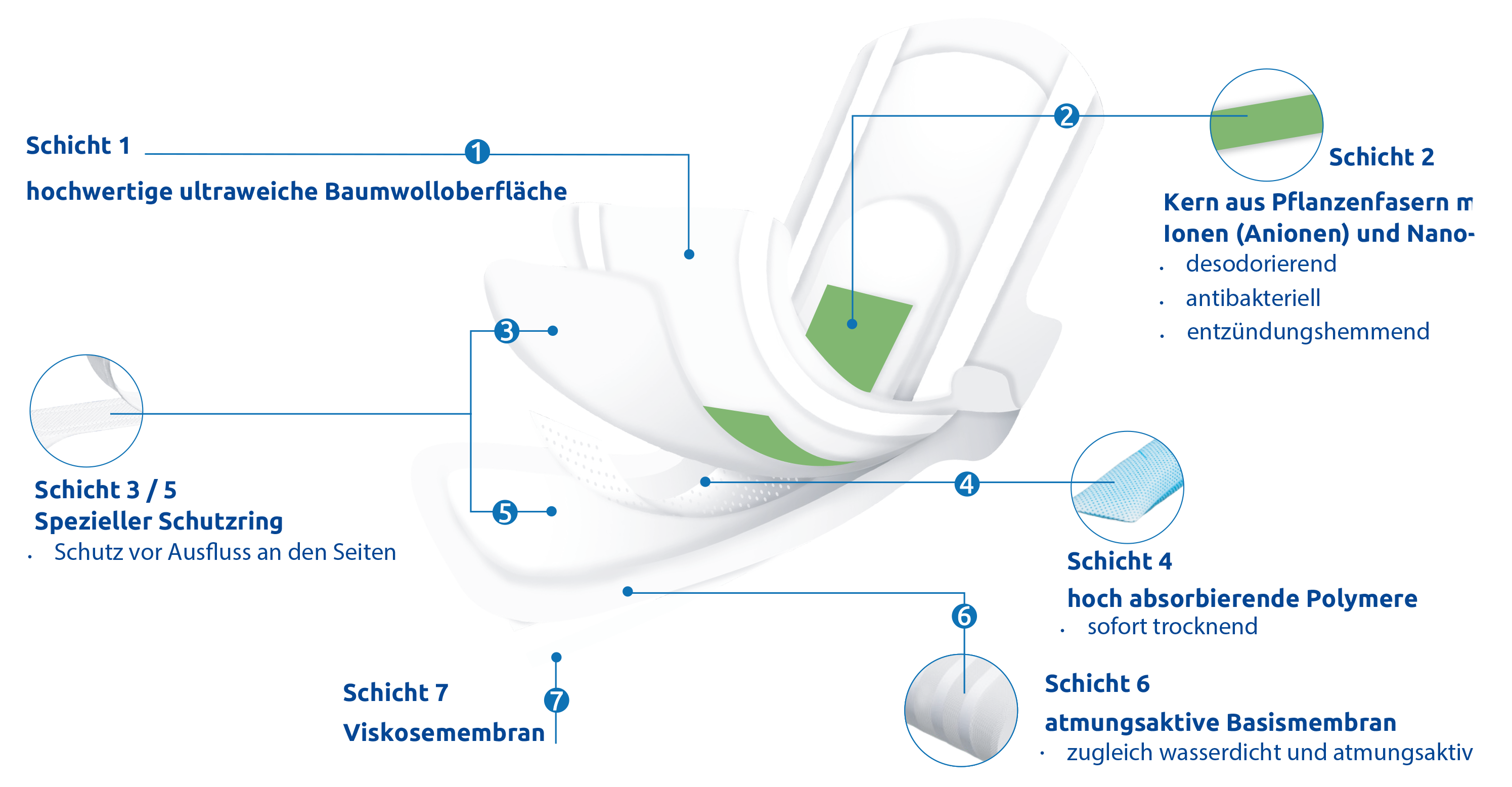 aunity Slipeinlage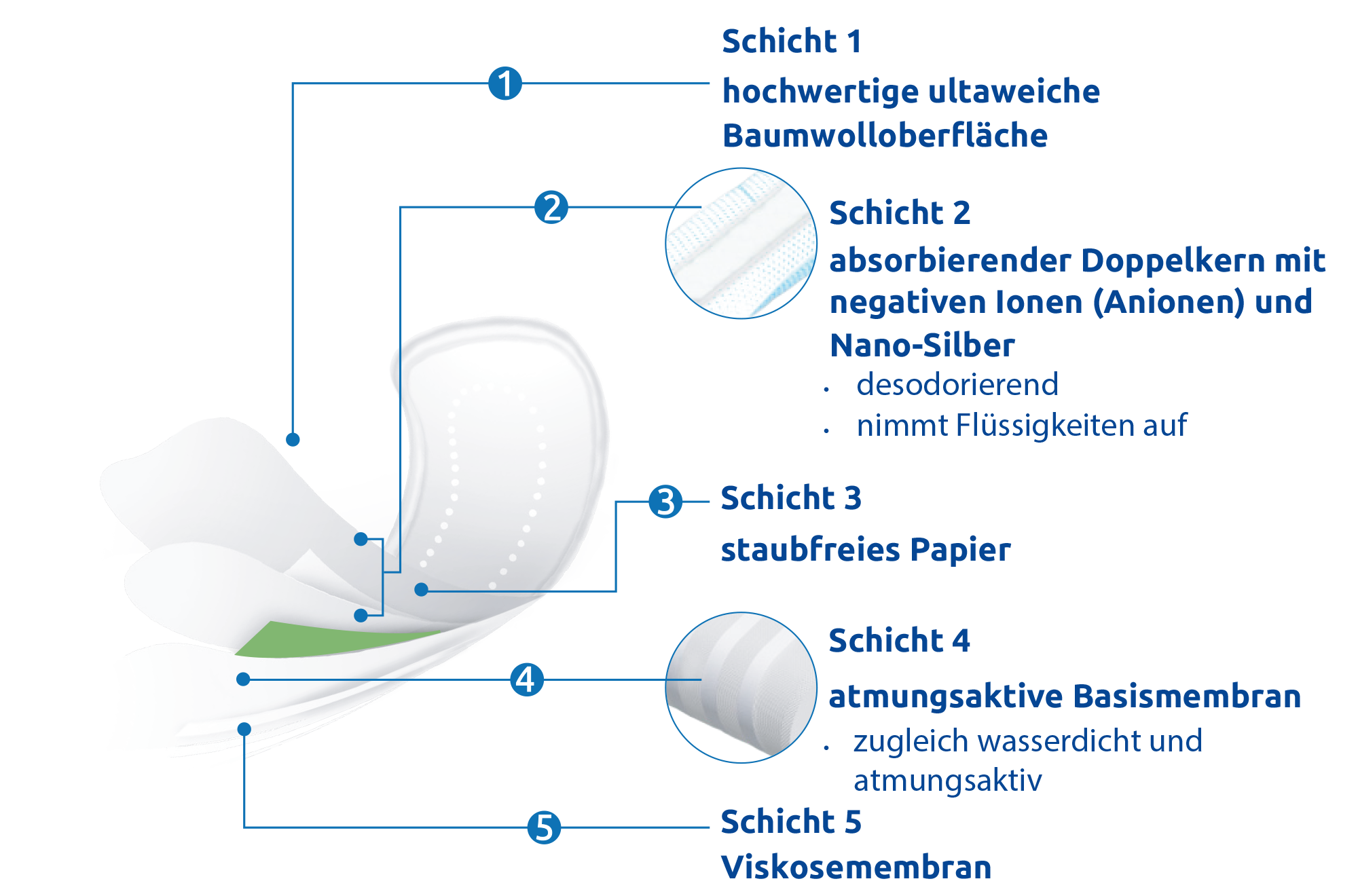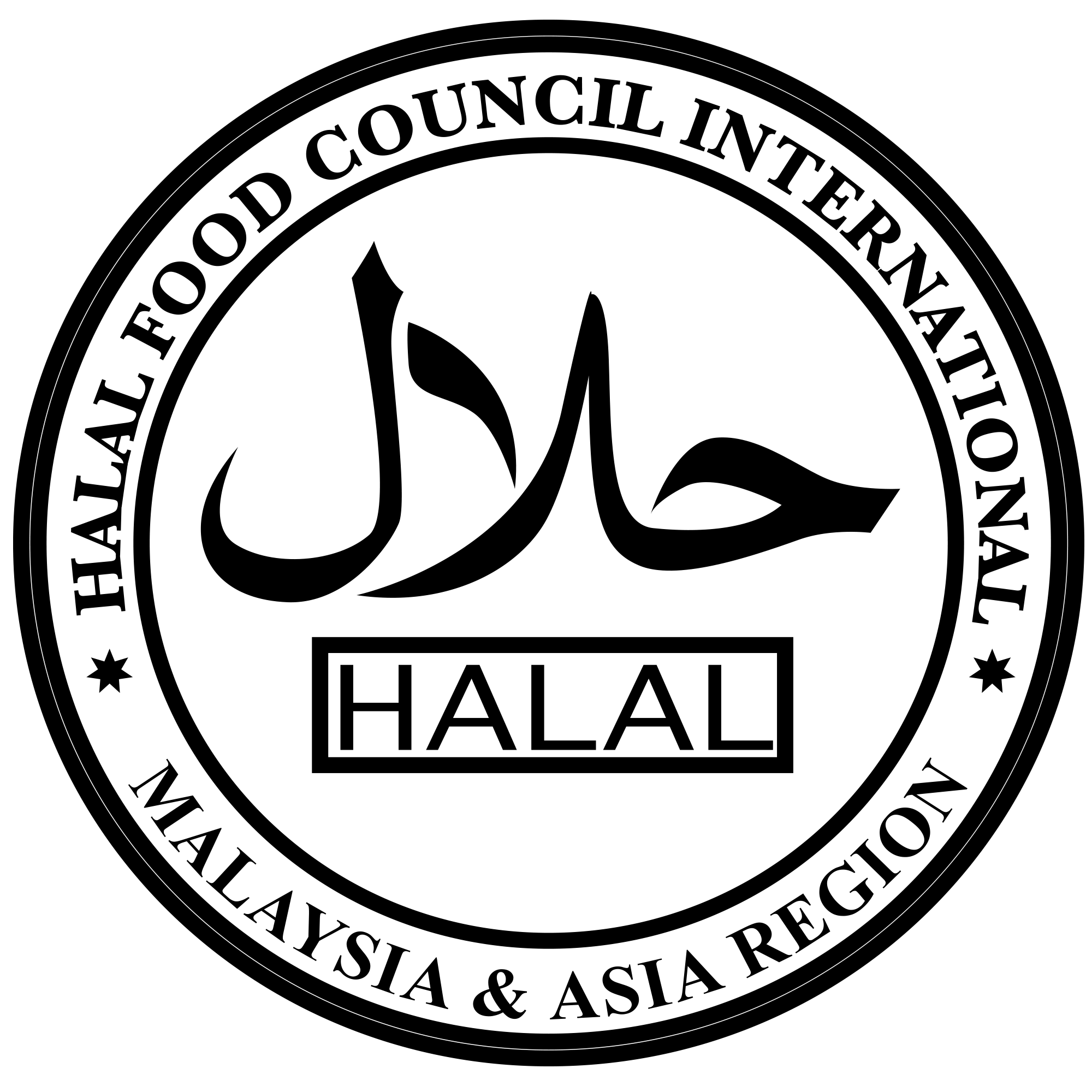 Latest modification: 06.04.2023